I would like to inaugurate the re styling of my site with a very special guest, a person who inspired my look and my musical taste since I was 14.
Many times, in my case always, the person you are, the sensitivity you have and consequently the way of being, working and confronting is very often influenced by the music that you listen to as teenager and the people who inspire us and that we keep as reference.
I must say that I was very lucky to grow up in a period where the music was great, the bands were a source of inspiration both for the sound and especially for the look.
For me London has always been the city I dreamed of, where I would have always wanted to live just for the music, fashion and trends that were born from the street and the influence it had and still has today on everything.
A band for example that in the first half of the 80s was my source of inspiration and it is still today and that has helped me to be what I am are today is called : Animal Nightlife. Andy Polaris on vocals, Leonardo Chignoli on bass, Steve Brown on guitar, Billy Chapman on saxophone and Paul Waller on drums.
Born from the English scene club in 1980, the Animal Nightlife had a sound that could be called New Cool or Jazz, White Funk R & B and were contemporary to bands like The Style Council, Sade, Blue Rondo a la Turk, Matt Bianco among others …
For me at that time their look was a mix between the look of the College ( American universities ) and the look of the cool Jazz players of the '50s and' 60s …white pants, black turtle neck and jackets, 1950's inspired haircuts.
What I had available in my small town by the country were the sleeves of their records and some rare video, maybe one "Love is Just the Great Pretender" 1985 .. internet did not exist, I could not travel, my only trips were in the record shop in my town or waiting for the return from some trip to London of some older friends … the rest was to dream and fantasize about how and what they were inspired to try to be like them, I was 15 years old.
Today I am lucky to have met their lead Singer Andy Polaris and I have the honor to finally be able to answer my questions …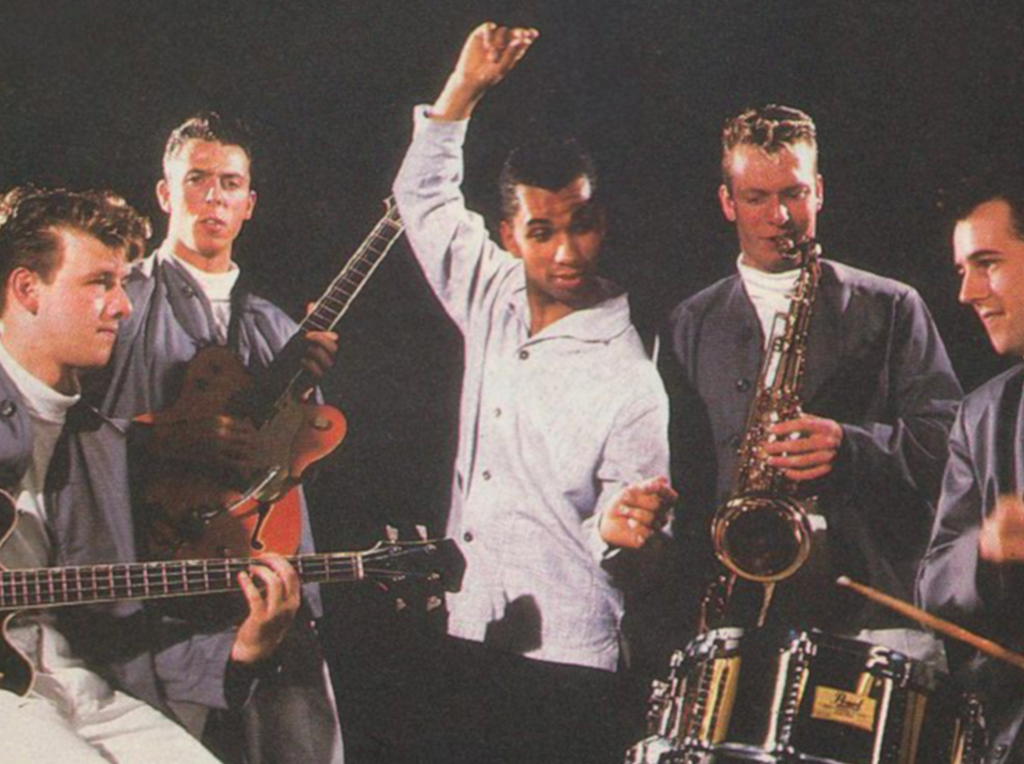 Alessio:
What was your background before the Animal Nightlife, I know you were one of the Blitz Kids , can you tell me a bit about what inspired your look at the Blitz before the Animal Nightlife?
Andy:
I was a soul boy and punk and off course major Bowie fan and so was going to clubs like the Roxy Vortex Roundhouse Crackers Lacy Lady Embassy Sombreros etc before i got to the Blitz I was working for a Merchant Bank and later an engineering company that helped build the Barbican Arts Centre.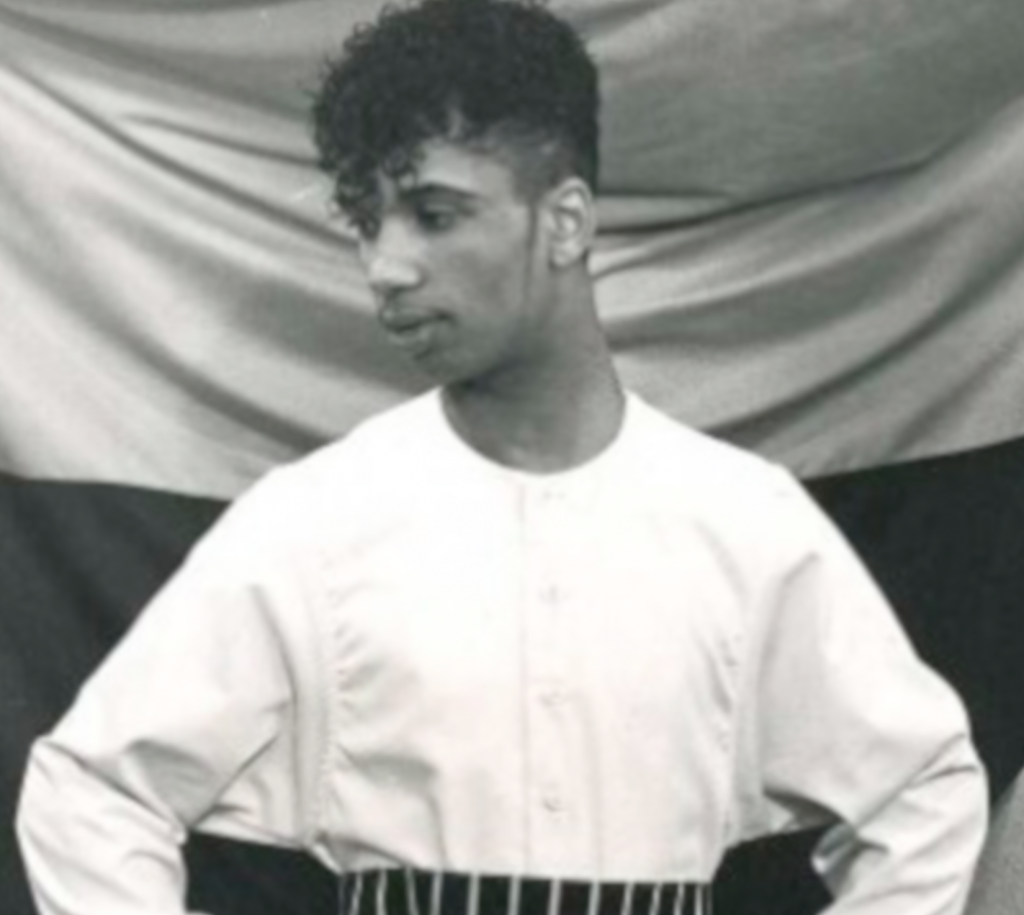 Alessio:
How did the Animal Nightlife born, what inspired their look, vintage shops, tailor shops or young designers, where did you buy your clothes?
Andy:
The band was born out of East End soul boys/girl scene and especially around Le Beat Route where our manager Steve Lewis was the DJ The band was already formed i was asked to attend a rehearsal and got the gig We were interested in classic vintage clothing which could be bought from American Retro or british designer like John Smedley along with pieces found in markets or vintage shops.
We did have some clothes made by Michele Clapton (St Martins) for our first proper show at Lazers.
Alessio:
In my case, music and fashion are very important and are both sources of inspiration, what were your musical and fashion tastes in the period of Animal Nightlife, and today? Andy:
Most of our influences can be found on the inner sleeve of the original vinyl Shangri La cover everyone from James Dean Harry Belafonte, Brando ,West Side Story mostly casual classic styles that did'nt date if mixed with more contempary styles. Music again the band was interested in soul and jazz so everyone from Manhatten Transfer Chet Baker George Benson Chic amongst multitudes of influences we grew up enjoying
I cant speak for the rest of the band but personally now listen to a mixture of old and new so still Stevie Wonder Prince Marvin Gaye Teddy Pendergrass along with rock stuff like Talking Heads Roxy Music Sparks T Rex and Bowie of course Newer artist Gregory Porter Janelle Monae Miguel Rosion Murphy Solange Micheal Kinuwaka are a few.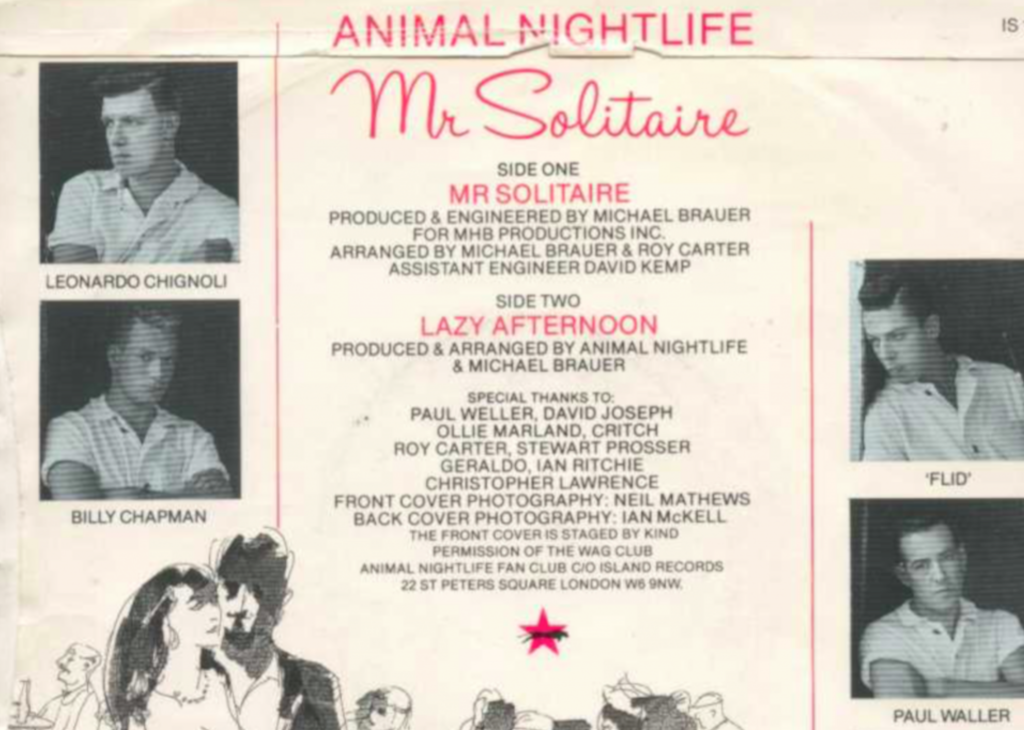 Alessio:
"that did'nt date if mixed with more contempary styles" this is a great thing you said …
I know you were friends and collaborated with other bands like Style Council or Blue Rondo a La Turk what was the vibration in London at the time?
Andy:
We were all hangin around in the same clubs along with Swing Out Sister, Sade, Culture Club etc who were friends some we met in the clubs i mentioned before or parties. It was an exciting time to be young and around so many fellow creatives with ambition.
DC Lee had done some shows with Animal Nightlife, as a fan Paul Weller came to see us play at Ronnie Scotts He also sang backing vocals on Mr Solitaire.
Billy Chapman and Len Chignoli both did some live work with the Style Council
Alessio:
Thanks a lot Andy it's a pleasure and a honor for me.