When I was visiting the Tailor House of Timothy Everest in London I was struck by the spirit and flavor that emerged from those rooms.
Rooms very small and colorful , arranged vertically in a house in a former red-light district near Elder Street … What struck me more than the exceptional " works" of this tailoring were the people who work in it.
Young people , men and women with a handedness of other times, the pattern maker tailor man, one tailor woman for dresses among others but what struck me most was a girl with a mop of red hair and , look almost shy and beautyful hands …
I asked what she was in charge and she showed me the construction of a reinforcement of horsehair and cotton wool for a jacket . What surprised me was that it was all built by hand from her, point by point , layer after layer, with iron …
She showed me some circular and triangular bartacks done manually with incredible perfection , stitching and small details .
I thought that this young girl had an incredible dexterity that only combined with a passion for this job could give incredible results. The thing that remained in my mind were her hands …
I tried to contact her and she was very kind, I found more of an Tailoring artisan her name is Annika Joan Caswell:
Alessio:
When I had The privilege to see you working I have to say that my first thought was "dexterity and experience" then I looked at your hands, the hands that are very young and I thought, "how long this girl is doing this job in order to do this way? ".
The answer that I gave me self is the answer to all the ills of modern life "Passion." How your passion started ?
Annika:
My passion started as a young girl. I grew up in the countryside and used to love to wear huge dresses and run around the fields pretending to be in a film, so I started collecting Victorian dresses and shoes and hats and boots and corsets to wear. The more I collected the more interested I became in the construction of the garments and started to study fashion when I was 18. When I was 20 I moved to London to study historical dressmaking and after many years freelancing in theatre costume, corsetry, couture and teaching I decided to train as a tailor.
Alessio:
Make a Coat or an outerwear garment manually including bar tacks, eyelets, stitching and even the internal breast construction must require a lot of precision and very talented nowadays as well as the time that this type of operation requires.
I am a industrial Pattern cutter and I remember seeing those things only at the beginning of my working life, when I was 16 … long time ago …
The fact of thinking and build a garment like it "should be done" is something that many people today have forgotten and which I think should be brought to everyday life and passed to the next generation .
How does a typical day dealing with a Coat? Annika:
A typical day as a coat maker is fairly linear in that the process of making a typical coat for me is a complex but rigid 5 day choreography I perform with my hands. In any one day I will be working through a section of that choreography… Unless the coat is one of the more unusual designs I am asked to make at Timothy Everest.
After a few years of making jackets, my brain is only partly needed to carry out this process… Tailoring trains your hands and mind like a machine so after a while you are free to enjoy intense conversation with studio partners, good radio plays and music, and wherever else your imagination takes you, which in my case usually drifts to thoughts of my other creative pursuits…
Alessio:
.."other creative pursuits"…nice thing …
I really like the word choreography to outline the whole process of building that there is behind a coat.
So I thought that these operations takes you as a mantra do and peel off the body and brain from the rest of you, as a kind of " double flanging " as Sgt Pepper teach ( a double effect on Beatles record called flanger )
Even for you is the passion led you to make this work.
If we are passionate about what we do and also have the satisfaction then it is the best .
I like to think that a dress is the subject of a choreography, it makes me think of the past, romantic flavors …
We know that every type of garment has its own history and its own flavor: military, civil, work wear.
You, like me, will face all kinds but if you allows choosing a type to which you feel even more into the choreography, which would you choose? Annika :
I think the choreography flows easiest when the job is simplest, but I enjoy the choreography so much more when I am working on a new type of jacket that I have never made before. The choreography is interrupted and adjusted as I have to stop to work things out and solve new problems. The job I enjoyed the most in terms of the process of making it, was a bespoke parka jacket, as every aspect of the job was new and challenging. As I adjusted my choreography I felt real creative achievement as each new problem was solved in a practical AND beautiful way!
Alessio:
It looks like we are living the present in a past way wich is very similar to me , I also grow up with some things that have remained in my head and hart and make me became like this,alsoinmywork.
Its not a everybody thing now days …what you think ? Annika :
No, I don't think many people think in a way that regards the traditions and values of the past, but this is good as some must be very much looking to the future to create the excellent new things we have in our world, such as the tools that allowed you and I to meet and speak as we are now with the best of technology.
Of course, even in technology there can be an attitude towards quality and craft, and that is the thing I feel is missing from the vast majority of society. Everyone seems to want and expect everything immediately, and is happy to dispose of it as soon as it has tatty corners… With people, careers, clothes, the attitude applies to all.
Disposable is the opposite of how I live my life. I have pieces of wallpaper I tore from the walls of my Great Uncle Vern's beautiful Victorian house before it was horrifically demolished. I keep every train ticket from journeys I will never forget. And if I buy a vintage dress, it will stay with me for the rest of its life.
And as for work… I study hard and then I work to keep historical crafts alive in everything I touch. And I teach when I can, of course…
Alessio:
I was talking with British friends , they told me that in England many old fabric factory are now going to be good again bacause of the demand , in other word I think I understand that in England now is very important much as ever to promote british manufacturers and factories than abroad solution .
Annika:
Yes, I do think that the UK is starting to understand the value of its home grown crafts and industries… Partly because there is a mainstream leaning towards vintage and the traditional, and partly because it is starting to cost more than it used to get things made in other countries. I like the idea of us slowly evolving into a more self sufficient and self supporting country, particularly when importing is sometimes undeniably exploitative to others.
Alessio:
Speaking of other things related to your passions, what are the things that surround an Annika typical day: cinema, music, food, scents , sensations …
I've seen some movies where you recite, how did this other side of you was born ?
Annika:
Outside of work you will mostly find me ploughing time into my other loves… I am training to be a performance pole dancer, and so do two classes a week. I love dancing of any kind, and so if there is an opportunity to go out to dance, I will be there.
I also write short pieces of fiction, and so whenever I travel it is never without pen and paper. I like to write away from home. Whenever I am on 'holiday' I always spend at least half the day writing.
I am a part time vintage model… for Men's File magazine mostly… Which takes lots of time to prepare for as I style myself completely from my vintage collection. I adore the shoots and have been to some beautiful places like Munich and Florence. We always work with the most incredible vintage cars or events. They really have made my life a dream!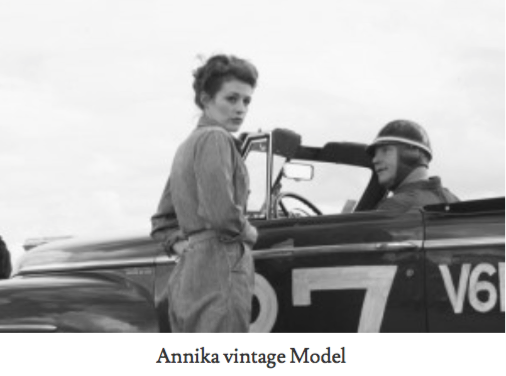 I have also been training to be an actress in the evenings and weekends for the last 5 years. My training is finished now and so I love to make short films when I can and take time out from tailoring for filming. I have made quite a few over the years… My most recent film 'Cake' was selected to be in the 2014 London Short Film Festival, which was amazing. It was great to see it on the big screen.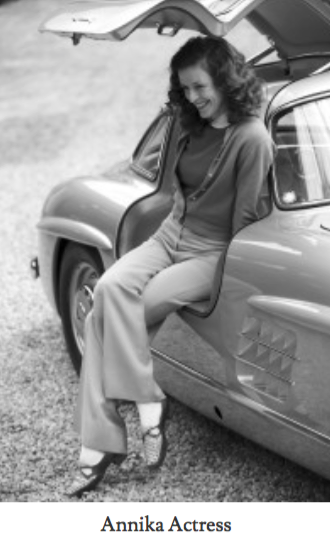 I've always wanted to be an actress, but never really had the confidence. When I used to make dresses, and collect Victorian clothes as a young girl it was at least half about wanting to wear them and be the lead in a film! That's the thing with me… I'm part shy perfectionist craftswoman, and part exhibitionist drama queen…
Are you getting the impression that I don't really take time off? You are right…
Alessio :
Do you put these things in connection with your work?
Annika :
Do I put these things in connection with my work? They FEED my work, and I feel more alive and nourished by them. But my normal work also provides a stable base for me to do these other things. My boss Timothy enjoys the fact that I do these other things I think. He is always telling customers what else I am up to!
Alessio:
And what about music ?
Annika:
My music taste has a leaning towards Classical, but really changes all the time. I like all musical genres. If my body or emotions can connect to a piece of music I become obsessed with it.
Annika vintage Model
This year so far I like these things most:
Annika Actress
Schubert's Winterreise – Julius Drake and Alice Coote.
Atoms for Peace – Amok
Toumani Diabate – New Ancient Strings
David Lynch – Crazy Clown Time
Leonard Cohen – Ten New Songs
Mount Kimbie – Home Recording
… And anything Doo-wop and 80 s depressed disco!
Alessio :
What is your favorite perfume ?
Annika :
I can't tell you my favourite perfume, as a woman should never reveal her secrets, but it is made for men and has an 80 year old recipe. You might find it on Jermyn Street…